Accessible Trails in the Fox Cities
Explore the natural beauty of the Fox Cities on a variety of easy to navigate trails.
Finding ways to get enough fresh air can be hard. Whether you're working or taking classes in school - chances are you spend the majority of the day indoors. It can be especially frustrating if you use a wheel chair, walker or motorized mobility scooter as many trails are not paved. The Fox Cities has a number of easy to access and paved trails that allow everyone to enjoy spending time outside and in nature. Here's a list of accessible Fox Cities trails that you should keep on your radar:
Named for its resemblance to butterfly wings, the Butterfly Pond Trail offers three wildlife viewing platforms as well as an accessible fishing pier and a gazebo. Experience wetland, prairie and forest ecosystems. Make sure to visit the ADA accessible playground in the Upper Park area. Opened in May 2021, the playground includes soft flooring, accessible swings, pavement to all facilities, accessible park benches, and wheelchair access next to benches.
Length: 0.4 mile and 0.7 mile options
Parking: available at the parking lot off of Lower Cliff Road, High Cliff State Park.
This waterfront trail in Little Chute will take you through wetlands and wooded landscapes. Connecting two parks, the trail overlooks a rare combined lock system. The best time to visit is May through September. Make sure to check for closures during hunting season.
Length: 2.9 miles
Parking: available at Island Park at 100 Monroe Street, Little Chute.
"The Old Stone Bridge Trail runs through a wooded green space to the northwest of Brewster Village. This trail connects to Fox Valley Technical College and continues around the building and back to the trail head by Brewster Village." - Outagamie.org.
Length: approximately 3.4 miles
Parking: available at the start of the trail - 3404 W. Brewster St., Appleton.
Following the Fox River in downtown Appleton, this urban trail features views of trestle bridges, active rail lines and navigational locks. The nature lover will appreciate bird watching opportunities including eagles, pelicans, ducks and geese.
Length: 2.4 miles
Parking: available at Telulah Park on E. Newberry Street, Appleton.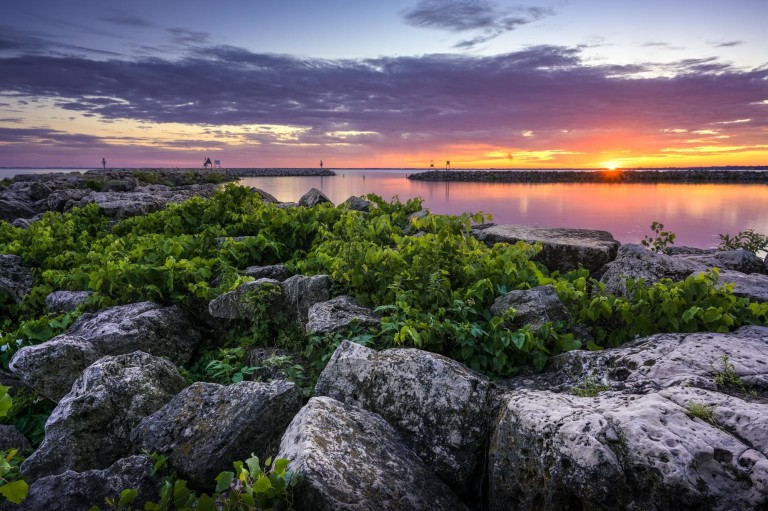 High Cliff State ParkN7630 State Park Rd
Sherwood, Wisconsin 54169-9615

Learn More